Intercultural Tools and Social media
for YOUth in action
Here you can review some statistics about It's You Project
Youth Worker and Young EU and non-EU citizens.
"IT'S YOU is an amazing eu project to promote the sense of community and increase the processes of participation (online and offline); Also, it activates 'virtual gym' for young people where they
can train their intercultural citizenship skills"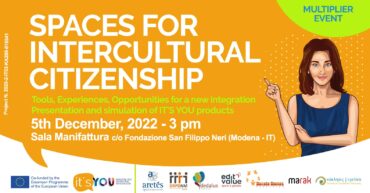 Final Multiplier Event – Modena, Italy
The final Multiplier Event for It's You is coming on December 5th! 
Its theme will be: SPACES FOR INTERCULTURAL CITIZENSHIP: Tools, Experiences, Opportunities for a new integration Presentation and simulation of IT'S YOU products.